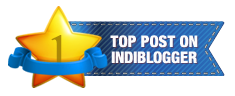 This post is my entry for 'My College Diary' contest held by travel blog My Yatra Diary in collaboration with Collegedunia.com'
December 31, 2006. Yes, New Year eve. I, Neha and Juhi had planned to visit newly introduced Central park in a city at Cannaught Place, New Delhi to celebrate the evening. Those days' Metro trains were used to run in yellow line only from central secretariat to Vishwavidyalaya and its usual closing time was 9 PM. As Metro was also the new attraction in the city, we boarded the train and had reached Rajiv Chowk metro station by 7 PM and headed to Central Park. Oh yes, as heard, It was beautifully decorated, full of lights, musical arrangements, street foods and with air tight security. People had come with their families. Central Park was loaded with youth, families and kids and on the other hand roads were empty and only personal vehicles were allowed to enter. We three were over excited and had chased for every single moment of celebration.
Oh! it is quarter to 8, we should move; Juhi said. With the mutual nod we had decided to stay for 15 more minutes and would leave. We were not aware of the road route that was the primary reason we had taken metro for the destination and similarly had planned to return. We captured beautiful moments, had lots of Delhi street food and were happily returned to Metro rail. Here we found that the entrance was closed. It was 8:15 by that time. We were surprised and ran to the next possible entrance, we found it closed either. Before we could understand, we saw one Policeman was standing behind us, he enquired about the possibility of us at the closed metro rail gates and then surprised us by telling the fact that on New Year eve, the metro train get closed at 7:30 PM for security reasons. Before he could explain anything else, we ran from the place without returning any favor to him for the information.
We might find any DTC bus from outer circle, Neha suggested. Our hostel closing time was also
9 PM and hence we had no options left instead to believe her and find the bus stop. We started running on the empty streets and sooner we got caught by Police at the outer circle of CP and had been stopped. We told the whole story without any comma and full stop. The adventure strengthened with Police statement that the entire route to CP for public transport had been blocked for security reasons; we had been advised to come out of the CP's arena to find any public transport. It was now 8:30 PM. In the dark night, having no options left, we continued running on the empty streets holding, encouraging and supporting each other.
We had reached Red Fort by then.
In a while we found one DTC bus was coming. In the frightening night, in a hurry to reach hostel safe and on time we three had decided to appear in front of the Bus to stop it, obviously we failed and had to run aside as the bus was in speed and it went. In a lesser time 2 to 3 more bus had passed however we couldn't catch any. It was now 8:50 PM. Juhi was panicked and started crying. Finding no other way we had now decided to hire an auto to our hostel. After struggling for couple of more minutes we found an auto. The auto driver had mentioned that he was not aware of the route to Delhi University however he could drop us to the Kashmiri Gate ISBT from where we could catch a linked Bus for Kingsway camp, North campus, Delhi University. Juhi was stressed and so do I and Neha. We were not sure of hiring him but also we had no other options as the clock was running fast. At last we hired him and prayed to god for safe travel.
He took us to ISBT, Kashmiri gate. We thanked and offered him some tip but he refused to take it and said he would wait there till the time we found the right bus.
We then enquired about the connecting bus to our hostel and thankfully we found one soon.
In this one hour run for the first time
we were relaxed and smiled. We reached hostel at around 9:15 PM. Hostel mates were curious to know about the evening. Neha was looking happy, Juhi was in shock and I was silent. I maintained the silence and went to my bed. I was reviewing past 1 hour run, the crazy run, the run for life and And then Surabhi and other hostel mates came in with noise and woke me up, it is 12 and greeted loudly "Happyyyy Newwww Yearrrrrr". I smiled and returned "happy New Year" hug to everyone and celebration went on.
It was an unforgettable and adventurous
evening. People were enjoying, dancing and living the moment for new year and I guess I was celebrating for my new life.
-- Priyashi
I would like to invite my fellow bloggers to participate in
'My College Diary' Contest.
My Yatra Diary… along with
collegedunia.com
is very excited to host 'My College Diary' contest:
Cash Prizes Worth RS. 10,000 to be Won!
for the all the stories that you have got to share.